Peter Elst just launched riajobs.org. Riajobs.org is a community-based jobboard. Amazingly enough, the site is free - even for companies that want to post jobs. There's of course the odd feature that requires a fee but even then, 20 percent of the monthly revenue will be donated to charity.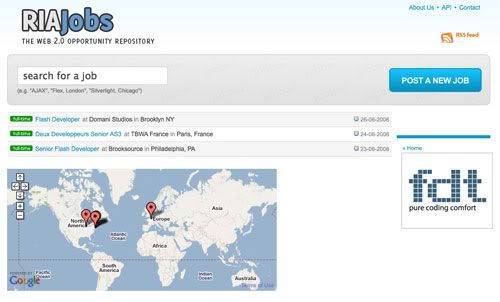 As I write this entry, jobs are being added to the site. The few jobs currently posted originate from all over the globe. Community support looks strong and will be a major success factor for riajobs.org.
The only thing this site needs is a little space for potential candidates and freelancers to leave an impression and the matchmaking site will be complete. And whaddayaknow? Peter already added that to the list of features to be added "in the near future".
Let's hope riajobs.org is not going to turn into another "enter ALL of your details including highschool friends and that female teacher you had a crush on and all the different types of pasta you've eaten in your life and all of the places you visited" setup, but, instead, a simple 1-minute setup. I've always felt that careersites asked way too much information. Just the basics and company and candidate will sort things out themselves, thank you very much.
I believe "niche" websites like this will become the ultimate future. A small company in the Netherlands has set-up a jobsite aimed solely at the creative industry and it's becoming increasingly popular as well.
Let's root for riajobs.org! From the community, for the community and, eventually, by the community.